VueScan Newsletter - September 2022
Welcome!
Hello to all our regular readers and a warm welcome to our new customers.
In this newsletter we are very pleased to update you about two major improvements we have made.
Firstly, after many requests (and a lot of background work) we are delighted to let you know about an additional way to purchase VueScan and secondly (again, with many requests) we have added frame thumbnails in the right hand panel.
As you know, we regularly release updates which are mostly new features, bug fixes, improvements and support for additional scanners and new operating system, so it is unusual for us to announce a major change.
But with over 900,000 customers we receive many requests and the one that has been repeated regularly is the requirement for purchasing a license for occasional usage, so we decided to add this as an option.
We realise that if you are reading this newsletter there is a very high probability that you are already a VueScan user, but many of our new customers hear about us via recommendation from work or friends and family – so we wanted to share this news with you all.
You can read more about this further down - or click here for a link to our Subscription Update blog.
Secondly is the addition of frame thumbnails in the right hand panel. Again, this is something that many customers have requested for a while.
Carry on reading further down for all the details on this exciting new feature.
And as always, please continue to contact us with your product suggestions and comments. We massively appreciate hearing your feedback – it is extremely important to us.
And if you do use Facebook, please continue to add reviews for us. As a small company it really helps us – so, once again, thank you. (And thank you for telling your friends and colleagues about us.)
Remember you can contact us for technical support (we need a Problem Report) and any general enquiries, suggestions or feedback here
We look forward to hearing from you.
Beverley.
Asking for help: Share your Preview Data with us
We just released VueScan 9.7.93 which contains a new feature that allows you to optionally share preview data with us. After you select this option in the Prefs tab, every time you do a Preview, it will send a low resolution copy of your preview to us.
We hope that many of you will turn this on to allow us to improve our image processing algorithms. Specifically, we are working on automatic cropping of transperencies (film & slides) and photos and the more data we have of different types of things the better we can make that algorithm.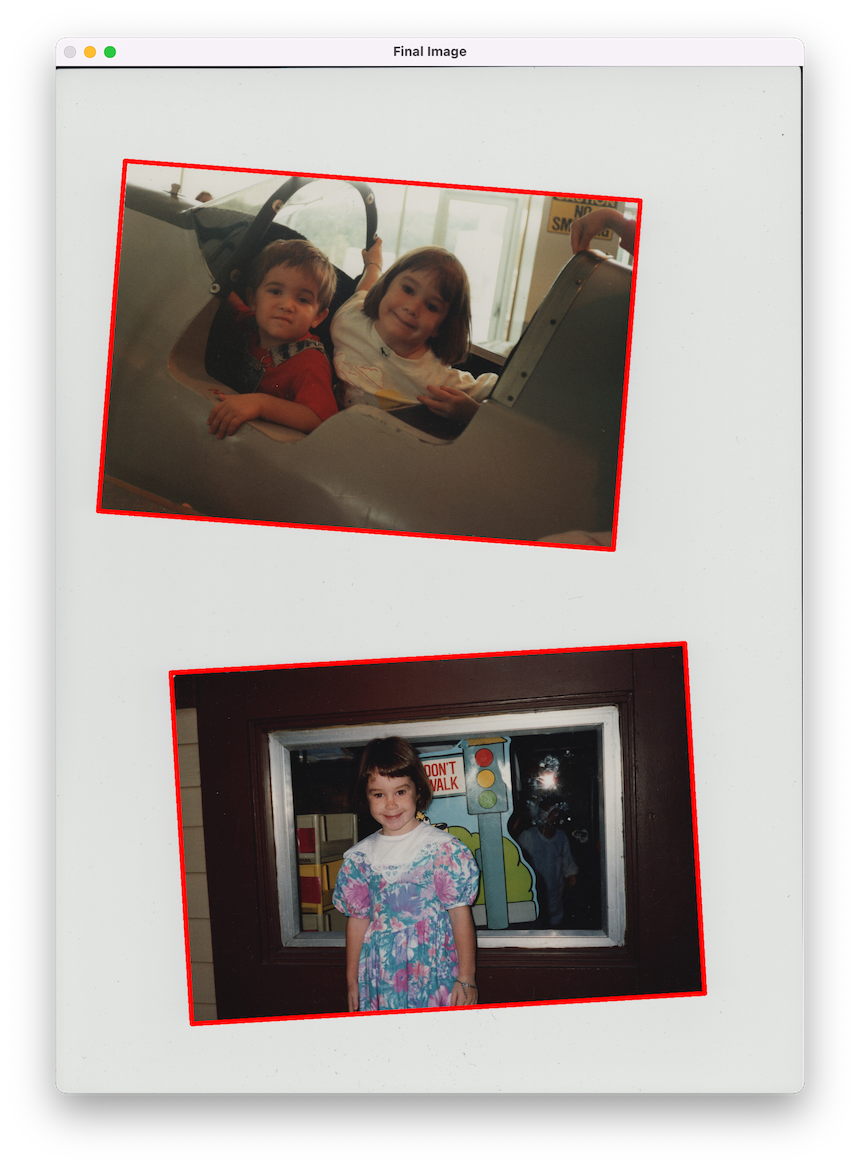 You can read more about what we are working on here and learn how to turn on "Send Preview Data" here
Frame Thumbnails in VueScan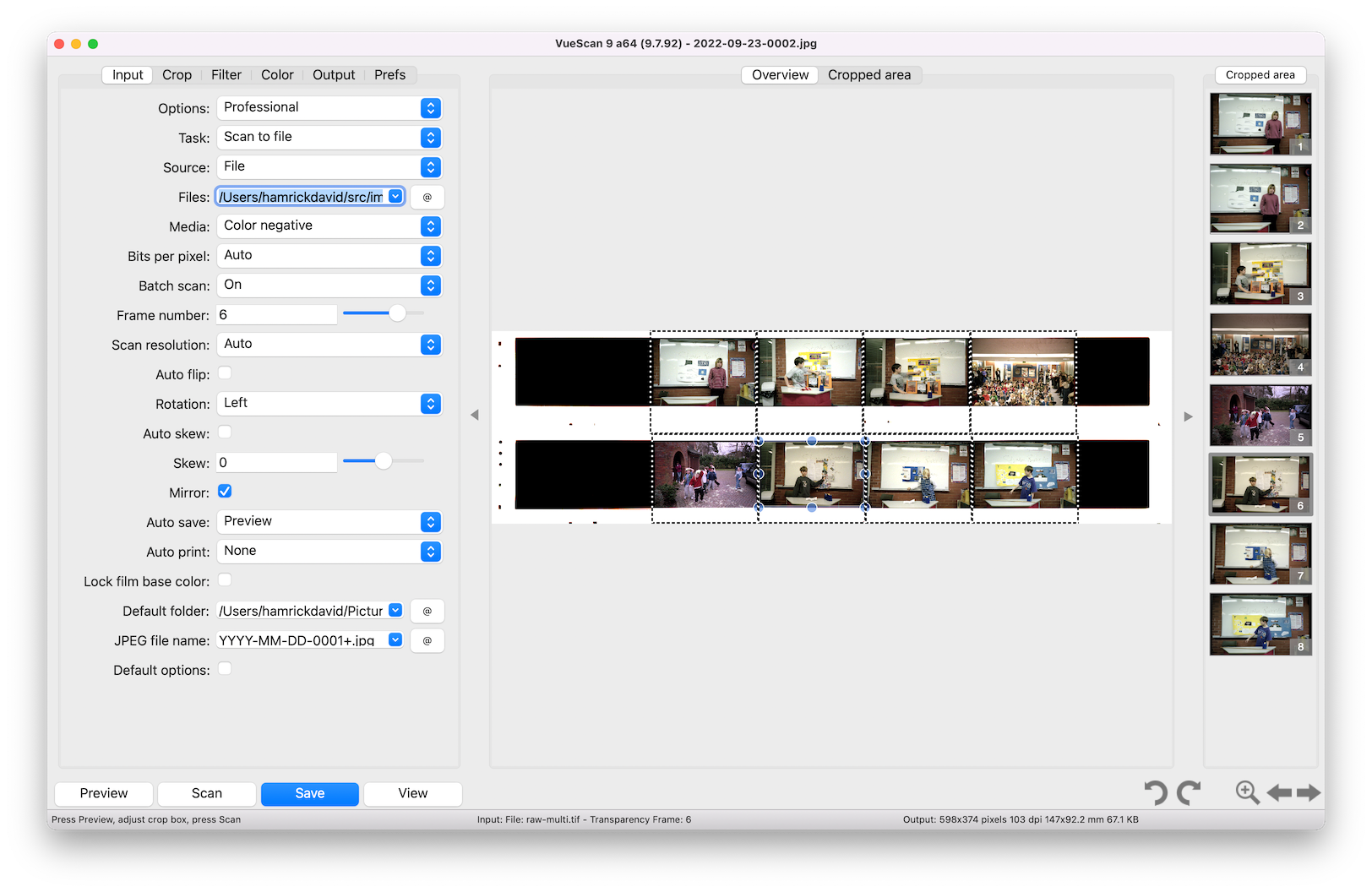 VueScan 9.7.92 contains a new feature that customers have been requesting for quite some time. Frame thumbnails allow you to see the contents of different frames in the right hand panel that is commonly used for PDFs.
For all the information on this feature please read here
Introducing VueScan Subscription Option
VueScan has been helping people scan documents, photos, film and more for over two decades. We're excited to announce a new way to buy VueScan. For 24 years, we've been selling VueScan as a one-time payment but now we have added a new option.
You can now purchase VueScan as a subscription in addition to the existing one-off payment options. The subscription gives you the latest version of VueScan for as long as you keep your subscription active, and you get free updates and technical support for as long as your subscription is active. The subscription is available for both the Standard Edition and the Professional Edition of VueScan.
You can read more about the new subscription offering here
VueScan Updates
Since the last newsletter, we've released VueScan 9.7.93; 9.7.92; 9.7.91; 9.7.90, 9.7.89, 9.7.88, 9.7.87, 9.7.86, 9.7.85, 9.7.84, 9.7.83, 9.7.82 and 9.7.81.
What's new in version 9.7.93
Fixed sending email on Windows 10 and Windows 11
Fixed problems with page thumbnails
Added 'Prefs | Send preview data' option

Turned off by default
Sends each preview image to hamrick.com to help improve VueScan
We're working on improving several things using these images, especially cropping
Works on Standard and Professional Editions
Works in background, doesn't slow down scanning
What's new in version 9.7.92
Added 'Prefs | Type of page thumbnails'

Works on Standard and Professional Editions
Can choose 'Off', 'Auto', 'PDF file', 'TIFF file', 'JPEG file' and 'Cropped area'
Displays thumbnails of multi-page PDF, TIFF and JPEG files
Displays a thumbnail for each frame in 'Cropped area' if multiple frames
When 'Auto' is chosen, shows the thumbnails for the most recent file or scan
Clicking a 'Cropped area' thumbnail also sets 'Input | Frame number'
A right-click on a thumbnail lets you choose options
After clicking a thumbnail, pressing Space brings up a QuickView of the thumbnail
What's new in version 9.7.91
Added support for 15 new Brother scanners

Brother ADS-1190
Brother ADS-2200e
Brother ADS-2700We
Brother ADS-3100
Brother ADS-3300W
Brother ADS-4100
Brother ADS-4300N
Brother ADS-4500W
Brother ADS-4700W
Brother ADS-4900W
Brother DCP-7090DW
Brother DCP-7190DW
Brother MFC-B7710DN
Brother MFC-L2759DW
Brother MFC-L5705DW

Added duplex scanning for Samsung SCX-8230 and Samsung SCX-8240
Fixed problem with some Canon WIA scanner drivers on Windows
What's new in version 9.7.90
Added support for buying VueScan with a monthly subscription
Added support for 10 new Canon MFP's

Canon TS3500
Canon TS3520
Canon TS3522
Canon TS3530
Canon TS5420
Canon TS5430
Canon TS7530
Canon TS8530
Canon XK100
Canon XK500
What's new in version 9.7.89
Added support for 8 Fujitsu document scanners

Fujitsu fi-8150
Fujitsu fi-8150U
Fujitsu fi-8170
Fujitsu fi-8190
Fujitsu fi-8250
Fujitsu fi-8250U
Fujitsu fi-8270
Fujitsu fi-8290

Fixed problem with some Plustek OpticFilm scanners
Fixed problem with some Avision and Minolta scanners
Fixed problem with some Canon DR-series scanners and auto media size
Fixed problem with Epson FF-680W
Fixed problem with Plustek OpticFilm 8300i
Fixed problem scanning APS film on Microtek scanners
What's new in version 9.7.88
Improved document feeder (ADF) auto media size and auto skew
Improves batch scanning of photos and receipts
Improves batch scanning of papers with different sizes
Supports most Fujitsu document scanners
Supports 177 Epson scanners with a fast document feeder
Supports Epson FastFoto scanners (FF-series)
Improves when 'Input | Media size' is set to 'Auto'
Improves when 'Input | Auto skew' is set
Works at high speed, uses hardware inside scanner
What's new in version 9.7.87
Added support for 145 HP scanners
What's new in version 9.7.86
What's new in version 9.7.85
Fixed problem with watermarks in Basic Edition
Fixed problem with some AirPrint/Scan scanners
Fixed problem with some models of Plustek OpticPro A320E
Optimized eject direction of film strips on some PIE/Reflecta scanners
Fixed problem with duplex scanning on Canon P-208 scanners
Fixed problem with some Fujitsu document scanners
What's new in version 9.7.84
Enabled Document Feeders (ADF) with Standard Edition
Enabled extra-long page scans with some Epson Document Feeders
Added support for the Basic Edition
What's new in version 9.7.83
Added support for 20 new Brother scanners
Fixed occasional problem with multi-page PDF scans
Fixed problem with older PIE scanners using Firewire
Faster scans with PIE PrimeFilm XE at 5000 dpi
What's new in version 9.7.82
Added support for 11 new Brother scanners

Brother DCP-J1050DW
Brother DCP-J1140DW
Brother DCP-J526N
Brother DCP-J914N
Brother DCP-J926N
Brother MFC-J1010DW
Brother MFC-J1012DW
Brother MFC-J1170DW
Brother MFC-J739DN
Brother MFC-J904N
Brother MFC-J939DN

Added support for Canon D550
Added support for Canon D570
Added support for Epson ST-C2100
Added support for Epson ST-C4100
What's new in version 9.7.81
Faster and sharper zooming and scrolling of 'Overview' and 'Cropped area'

Hold Control key (Command key on Mac) to zoom with scroll wheel
Scroll up and down with scroll wheel
Hold Shift key on Windows and Linux to scroll left/right with scroll wheel
Use macOS trackpad or mouse to scroll up/down/left/right
Use macOS Pinch gesture on trackpad to zoom in and out

Sharper display of splash screen and 'Help | About' on high-DPI displays
Fixed a few problems with occasional crashes
VueScan in the press
VueScan regularly appears in various articles – here is a review of the Epson FF-680W where VueScan is favourably compared to Epson's software.
Please let us know if you come across VueScan!
Customer Photos
We're very happy to introduce Stan! Stan is 84 years old and lives in Ontario, Canada. Stan has been using VueScan for many years and regularly sends us some of his fantastic photos – many of his beautiful local scenery. I thought it would be nice to share them with everyone.
This is from a visit to Niagara Falls. Stan says "It was taken 'hand-held' at the top of the Skyline Tower - with the lens of my D500 poking through the safety mesh." The other one is from his local park.
Thank you Stan and please continue to send them to us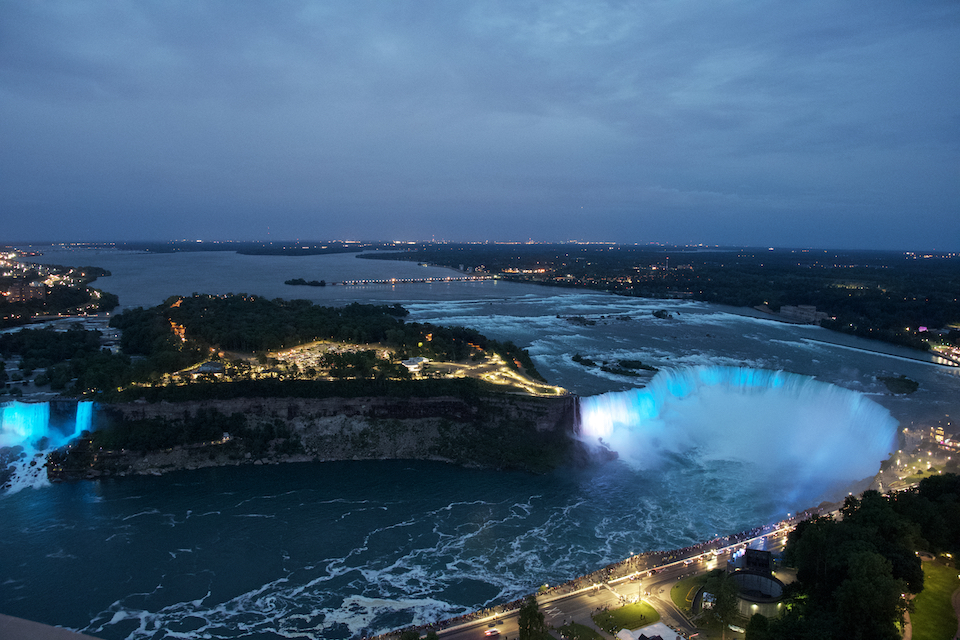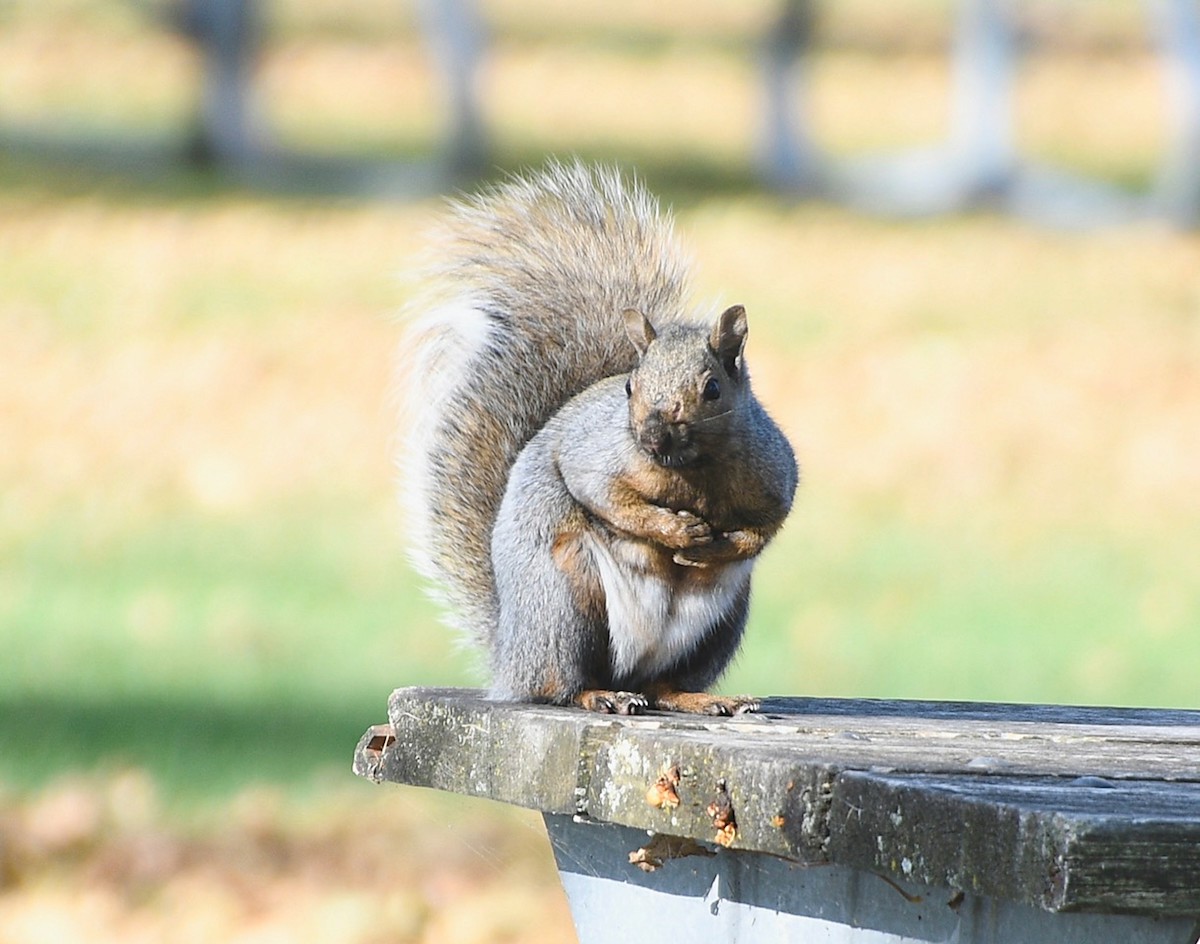 Customer Comment
We receive many kind comments from our customers, and we appreciate it very much. We reply to all your emails so please continue to send them in.
"Thank you for the news, Beverley. I've said it before, but I'll say it again, the support you give to your customers is a model that all companies would do well to emulate. It is superb and very much appreciated. Well done to all the team! And thanks again."
– Jim A – USA