VueScan Newsletter - November 2021
Hello everyone,
Firstly, thank you to everyone who has contacted us about our new feature – PDF thumbnails. The feedback has been very positive; it has helped many of you with your daily tasks and we are very happy to hear that it has just generally made your life a bit easier, especially with those large scanning projects!
We continue to add improvements and develop VueScan – so stay posted for some new exciting features that we are currently working on! More to follow in the next few months…. And thank you very much to everyone who has emailed us with questions and suggestions. Your questions help us to determine the product areas we need to focus on, so every email is appreciated. And if you do use Facebook please continue to add reviews for us. As a small company it really helps us – so, once again, thank you. (And thank you for telling your friends and colleagues about us.)
Please remember you can contact us for technical support (we need a Problem Report) and any general enquiries, suggestions or feedback from our Support page.
So, as usual, I sign off with the message to stay safe and take care.
Beverley.
Your newsletter sign up!
Please remember: If you have changed your email address PLEASE do not email us!
You do not have to tell us about an email address change for your use of VueScan, it is only relevant for the newsletter.
You can subscribe to the newsletter with your new email address here
You can unsubscribe the old email address here
You can contact us with questions or for technical support here
VueScan Updates
Since the last newsletter, we've released VueScan 9.7.67 and 9.7.66. You can access all version changes here
What's new in version 9.7.67
Handled Controlled Folder Access (ransomware protection) on Windows

If \Users\Pictures not writable, uses \Users\VueScan\Pictures
If \Users\Documents not writable, uses \Users\VueScan\Documents
Alternatively, add VueScan to the list of trusted applications

Solved problem with accidentally changing options with scroll wheel on Mac and Linux
Frees memory when 'File | Default options' is used
Fixed problem with 'Enter' key not working when thumbnails displayed
Fixed problem reading raw file (.tif or .dng) that has a thumbnail
What's new in version 9.7.66
Fixed problem with multi-page PDF files on some systems
Fixed problem with Canon 8600F transparency scans
Fixed problem with Canon LiDE 120 scan quality
Fixed problem with Epson XP-8500
Fixed problem with Canon MB2100 at 1200 dpi
Fixed problem with HP ScanJet 4890 detection
Frequently Asked Questions
Q) I have a networked scanner that isn't found by VueScan. How can I fix this?
A) You might check that your firewall or router between your computer and scanner isn't blocking mDNS responses from the scanner from being returned to VueScan (UDP port 5353). If you're using an older Canon printer/scanner/copier, you might need to unblock UDP port 8212.
The computer and scanner also need to be on the same subnet.
Lastly, make sure you aren't using a Virtual Private Network (VPN), either on your computer or in a router. A VPN will interfere with finding scanners on the network.
If VueScan still can't find your scanner, look up the USB Vendor ID and USB Product ID in the supported scanners list, then set "Prefs | Network scanners" to "Manual" and put this info and the IP address into the fields below this. The USB Vendor ID and USB Product ID tell VueScan what kind of scanner is connected at this IP address.
Q) I have a Mac with an Epson scanner that needs a driver from Epson, and it isn't working with my Epson scanner on newer versions of macOS. What should I do?
A) Try installing the "ICA Scanner Driver v5.8.9 for Image Capture" from www.epson.com. It includes the plugin library VueScan needs to talk to your scanner. If the ICA Scanner Driver isn't available for your scanner model, try installing "Epson Scan" instead.
You can find these drivers on www.epson.com on the Downloads page for your scanner (click "Drivers").
For instance, for the Perfection V500 it is located here
If you have an M1 Mac, make sure you're using the x64 (not a64) version of VueScan.
This is needed because the plugin library you need for this scanner is an Intel plugin.
You can download the x64 version of VueScan here
Q) I have a Linux system with an Epson scanner that needs a driver from Epson, and it isn't working with my Epson scanner. What should I do?
A) Epson used to use the "iscan plugins" with these types of Epson scanners, but then they switched to using the "Image Scan" plugins, which are completely different.
VueScan needs the "iscan plugin". You can download it from here
Use the older of the two drivers that you're presented with (this will have the iscan plugin).
Q) I need an inexpensive, portable USB-powered scanner. What do you recommend?
A) A used Canon LiDE 100/110/120/200/210/220 scanner is ideal, and you can often get them for a very low price on ebay.com. They work well with VueScan, even better than with the original software that came with them.
Q) Can you provide support for bigtiff format in order to save files larger than 4gb? I run into this problem with large format film 4x5 thru 8x10.
A) We've added this to our list of suggested improvements.
Q) Enhancing scans. Many years ago I digitized my 35mm slides. Being a newbie I did not scan most at the best quality level. What is the easiest/best way to increase the quality of these photos? I know I can use other third-party software, but I was looking for an easier Vuescan solution. Thanks,
A) Unfortunately, the only way to do this is to scan them again.
Help and Advice from VueScan Users
Just one of the emails we have received about PDF thumbnails! Thank you for letting us know it helps you.
I just wanted to thank you for version 9.7.64. This is a C change upgrade. The ability to work on multi page pdf documents within the Vuescan application will save me a lot of time and simplify my workflow significantly. As usual, the added feature is very elegant and easy of use. Thank you, thank you, thank you!
And a big thank you to Garry who sent us in his tips for cleaning slides:
Slide Cleaning Tips
Sometimes the dust on your slide is too large for your Infrared dust removing software, and sometimes the slides have a grayish Goop on them. I'm not sure where the goop originates… I'm guessing the slide was used in a projector over a period of time. Or the slide was stored in non-archival sleeves or boxes over a long time period.
Step #1 Remove the larger dust particles with:
1: Bulb dust blower (just search for a "bulb dust blower" at your favorite camera store)
2: Or, use a Compressed Canned Air blower, a brand name is Dust Off. (Caveat: canned air sometimes has a tendency to blow out some of its propellant along with the compressed air, which eventually evaporates, not knowing what the propellant is… hopefully it won't hurt the film's emulsion)
3: Once you have removed the larger dust particles you can use a dust free Optical Microfiber cloth (like to ones that an optometrist includes with glasses)
A brand name to search for is MagicFiber Microfiber Cleaning Cloths.
Step #2 Remove the goop
If under a loupe you see a grayish goop on the slide you MUST use a Photographic Solution that does not contain ANY water. Your alternatives are:
A: Isopropyl alcohol (it is water free as long as you use it properly) Or
B: Purchase a brand name solution like PEC-12 2.
Or
C: Try and purchase a Kodak film cleaner, HFE-7200 Film Cleaning Solution, (Heh, B&H Photo Video lists it for $799.95!)
If you are meticulous or if you have to remove the slide from its mount to properly clean the slide get a box of microfiber gloves. A brand name is Matin Microfiber Gloves Dust Fingerprint Proof (White).
Good luck and enjoy your clean slides.
Garry
And John Robinson shares his uses of VueScan
Hello
I thought you might like to hear about two use-cases for Vuescan.
1) Nikon Scan software on Windows 10
I use a Nikon Coolscan 5000 ED and was getting very good results using Nikon's own software (Nikon Scan version 4.3). Unfortunately, Nikon no longer maintains this software and from Windows 7 (64-bit) onwards it is very difficult to get it working. I therefore started using Vuescan, which works well with the Nikon scanners but does require more work to get colour-balance right on C41 negatives and alignment for batch scanning.
When I updated to Windows 10 I thought I would have one last try with Nikon Scan. I had already installed Vuescan and, following a tip I picked up about Nikon Scan, loaded the software but did not load the Nikon scanner drivers (which are the primary source of incompatibility).
To my surprise, Nikon Scan loaded and immediately found the scanner, using the Vuescan drivers. I now have it fully-working and can take advantage of the native Nikon interface and functionality (albiet a rather dated user interface).
So, for Windows 7 or 10 users, I can recommend to load the Professional version of Vuescan and then the Nikon Scan 4.3 (version released for Windows Vista) but do not tick the options to load Nikon drivers during the installation process.
2) Conversion of negatives taken with a camera
It is increasingly common to make digital conversions of film negatives (BW and Colour) using a digital camera, macro lens and light box. This can be fast (I can photograph six negatives in the time it takes for the film scanner to do one frame) and good quality (average digital cameras are now around 25MPixel resolution). However, reversing to get positive images can be very fiddly, using various strange workarounds in raw conversion software.
This is where Vuescan is very useful. It can take as input a folder of files (in my case, DNGs from a Leica) and output them to another folder as converted positives in whatever format the user requires (in my case, TIF DNG raw files for use in Capture One). Adjustments can be made in Vuescan and the process repeated as often as possible.
Just another reason to use Vuescan Professional.
John Robinson
www.johnrobinson.org.uk
Customer Corner
Thank you for sending in details of your scanning projects – such interesting and diverse subjects. We will try and include all of them – and we will certainly reply to all your emails and provide advice if asked. So please continue to send them all in!
As ever, I find your Newsletters very helpful and I get some excellent results using your software on my Canon LiDE 220 scanner.
However, I have hit a problem with an archive project I am doing as a volunteer with my local museum in Huddersfield in West Yorkshire, U.K.
They have a collection of glass mounted positives intended for lantern projection and I have been tasked to scan these into a report. Each glass slide is about 80 mm square and they were prepared about 90 years ago using images taken from archaeological reports dated 1908 and 1911.
Where the original plate was a drawing or site plan in black and white the scan result in jpg is quite acceptable after enhancement using 'Photo' software as this example shows:-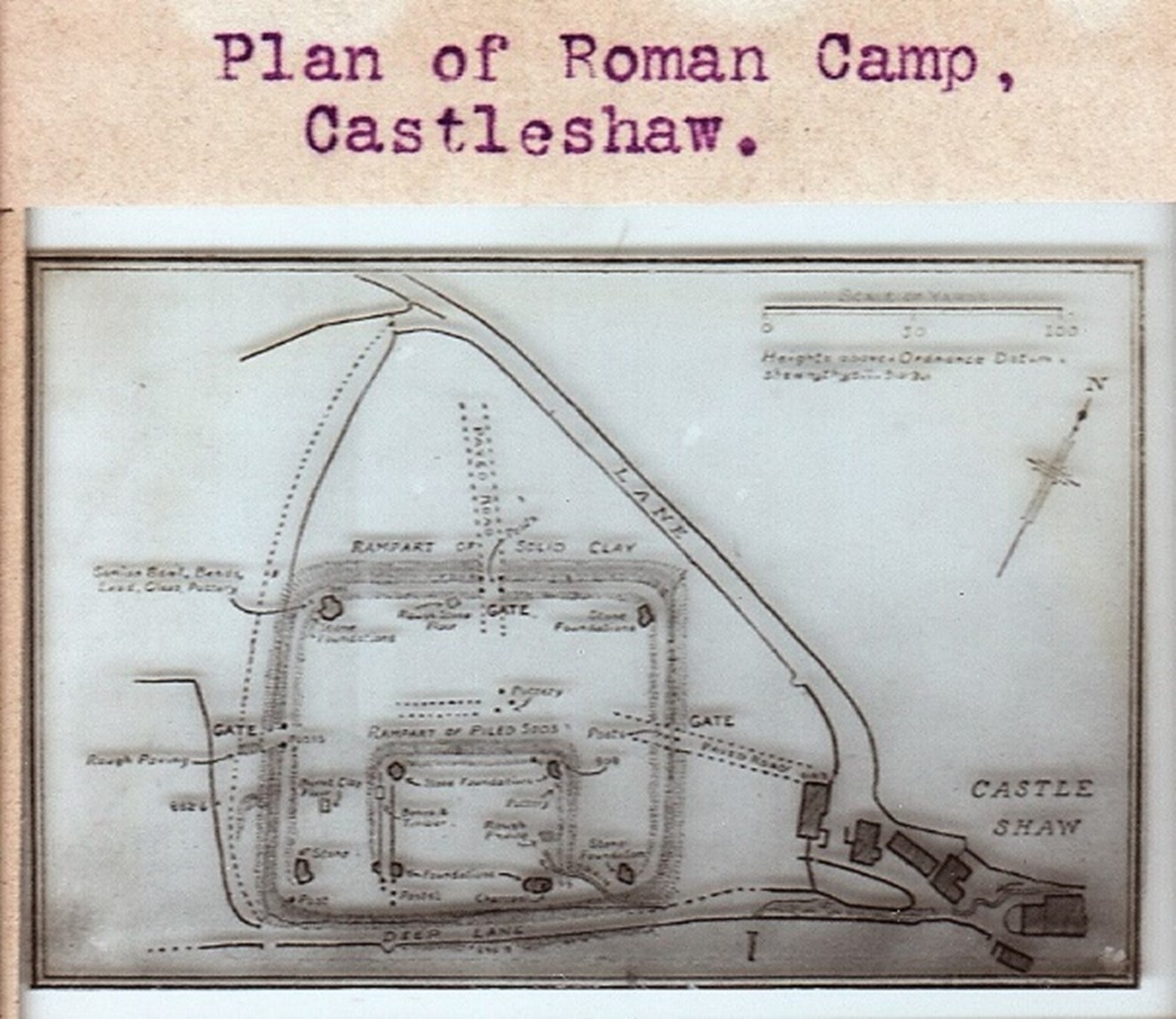 However, when the original plate in the book was a black & white photograph the jpg scan is too poor to be useful, as this image will show:-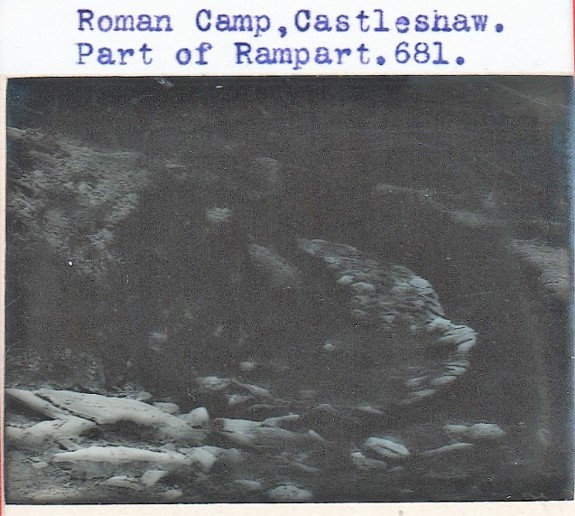 The printed plate is very crisp and bright and I could always re-scan from the printed page, but many of the glass slides are from publications to which I have no current access.
From reading your help notes I suspect I should be scanning as TIFF, but a sharper direction from Hamrick would be much appreciated.
Regards,
Gerrie Brown.