VueScan Newsletter - March 2020
Welcome to all our customers!
In the last newsletter we promised that we would continue to focus on adding new features and always being innovative.
With that in mind, we are delighted to announce that VueScan now supports Raspberry Pi – and it's a late Christmas present for our customers. :) If you don't know much about the Raspberry Pi then read below for details. We think you'll be as excited as we are! If you own VueScan 9.7.25, then the version for the Raspberry Pi is free for you. Just go to www.hamrick.com from the web browser in your Raspberry Pi and click the red button – you'll be scanning in minutes.
VueScan on the Raspberry Pi
What is a Raspberry Pi?
Raspberry Pi is the name of a series of single-board computers made by the Raspberry Pi Foundation, a UK charity that aims to educate people in computing and create easier access to computing education. More than 5 million Raspberry Pi computers are sold every year.
The Raspberry Pi launched in 2012, and there have been several iterations and variations released since then. The main price point for Raspberry Pi has always been $35 and all models have been $35 or less, including the Pi Zero, which costs just $5.
All over the world, people use Raspberry Pis to learn programming skills, build hardware projects, do home automation and even use them in industrial applications.
The Raspberry Pi is a very cheap computer that runs Linux, but it also provides a set of GPIO (general purpose input/output) pins that allow you to control electronic components for physical computing and explore the Internet of Things (IoT).
If you like to tinker with hardware, you can buy a complete Raspberry Pi kit on amazon.com for about $100. It's kind of fun to put together, and you can use your TV for a monitor and along with a USB mouse and keyboard. It works with almost all scanners that VueScan supports on Windows, Mac OS X and Linux.
Note that we can't provide technical support for using Linux, but there are lots of sites that have tutorial information.
As always, if you have any product suggestions or requests, we would love to hear them. And thanks to those people who have contacted us in the last month – we have had some great input from all over the world.
Please remember you can contact us for technical support (we need a Problem Report) and any general enquiries or feedback here
We look forward to hearing from you!
Beverley
Your newsletter sign up!
Please remember: If you have changed your email address PLEASE do not email us!
Remember! You do not have to tell us about an email address change for your use of VueScan, it is only relevant for the newsletter.
You can subscribe to the newsletter with your new email address here: https://www.hamrick.com/newsletter.html
You can unsubscribe the old email address here: https://www.hamrick.com/unsubscribe.html
You can contact us with questions or for technical support here: https://www.hamrick.com/problem-report.html
Thank you and happy reading!
VueScan Updates
Since the last newsletter, we've released VueScan 9.7.25, 9.7.24, 9.7.23, 9.7.22 and 9.7.21.
What's new in version 9.7.25
After document feeder PDF scans, opens view of folder instead of file
Added support for TIFF and DNG files between 2 GBytes and 4 GBytes
Added support for older Linux versions (build on Ubuntu 16.04 for x64 version)
Added support for HP Scanjet Pro 2000 s1 on Mac OS X
Fixed problem with Brother MFC-260C
What's new in version 9.7.24
Released a32 and a64 versions for ARM Linux

Raspberry Pi 2 (32-bit only)
Raspberry Pi 3 (32-bit and 64-bit)
Raspberry Pi 4 (32-bit and 64-bit)

Fixed problem with Canon DR-3080CII
What's new in version 9.7.23
Fixed problem with Canon LiDE 120
Fixed problem with Fujitsu fi-7260 and Fujitsu fi-7280
Added support for Fujitsu fi-800R
Added support for Canon MF260 series
What's new in version 9.7.22
Improved support for some Genesys Logic scanners

Canon 4400F (flatbed up to 600 dpi)
Canon 8400F
Canon 8600F
Canon LiDE 50
Canon LiDE 60
Canon LiDE 80
Canon LiDE 100
Canon LiDE 110
Canon LiDE 120
Canon LiDE 200
Canon LiDE 210
Canon LiDE 220
Plustek OpticFilm 7200i
Plustek OpticFilm 7300
Plustek OpticFilm 7500i
HP ScanJet 2300c
HP ScanJet 4850 (flatbed up to 400 dpi)

Improved Polish translation
What's new in version 9.7.21
Fixed problem with HP LaserJet MFP M426
Fixed problem with button polling and some Epson scanners
Fixed problem with PIE PrimeFilm 7250 Pro3 and Reflecta RPS 7200
Fixed problem with Brother MFC-L2740DW
Fixed problems with some Fujitsu scanners
Added support for turning off lamp with some Avision scanners
VueScan in the Press
MacFormat has featured a VueScan tutorial in its March issue. To read this click here.
Frequently Asked Questions
Q) Upgrading VueScan on Windows gives an error message about "C:\Program Files\VueScan\vuescan.exe" sometimes. How do I fix this? A) First, reboot your computer. Then do the following:
Try using the "Programs and Features" Control Panel to remove all copies of VueScan. Then delete everything beginning with "vue" from your downloads folder.
Then use an Administrator account and download and install a fresh copy of VueScan from www.hamrick.com
Run the install program by clicking on it with the right mouse button and choosing "Run as administrator".
When you're asked if you want to install drivers, click the "Install" button.
Then check "Device Manager" to confirm that a device driver has been successfully loaded for your scanner.
If you aren't asked if you want to install drivers, let us know and we'll send you drivers that you can manually install.
Q) I bought VueScan, or an upgrade, on PayPal, but didn't get an e-mail. What can I do? A) Check your PayPal account to see if it's using a different e-mail address than you normally use. Send this to support@hamrick.com.
Q) I have a Canon scanner that isn't supported on macOS 10.15 (Catalina). What can I do? A) We were using a Canon plugin library for these scanners on previous versions of macOS, but these are 32-bit only plugins and don't work on Catalina.
If you're scanning film, I'd recommend getting a used Epson scanner on ebay instead.
Here are some good ones that work well with VueScan on Catalina:
Epson Perfection 4870 Epson Perfection 4990 Epson Perfection V600 Epson Perfection V700 Epson Perfection V800
If you only need a flatbed scanner, I'd suggest a new Canon LiDE 300 (the LiDE 400's higher resolution isn't useful for scanning paper).
An even simpler solution is to use a virtual machine to run Windows 7 or Mac OS X 10.14 (Mojave) on Catalina.
For example, www.parallels.com lets you do this. It's what I use for my development machine for VueScan, and I highly recommend it.
Customer Comment
Thank you to everyone who contacts us and shares information. Please keep sending them in. This month – some great desserts and puddings from Don Bell in Canada a la VueScan!
Don Bell is the owner and author of the Homemade Dessert Recipes website and as someone who loves desserts and puddings, I was delighted to ask Don about his background
https://www.Homemade-Dessert-Recipes.com
Don says "I've been publishing old fashioned dessert recipes and nostalgia online since 2004, and I've been a satisfied VueScan user for over a decade. Every tool that saves time and allows a one-person part-time business to compete against the competition is indispensable. It's no exaggeration that I'd be lost without VueScan.
I first considered VueScan when I discovered that I could no longer upgrade the software driver for an old Lexmark Optra E310. While searching for a solution I discovered VueScan. There was no other product in the marketplace to compete with it. VueScan not only restored the use of my trusty old scanner, but with VueScan it performed better.
Today, VueScan and my Brother DCP-L2540DW wireless laser printer work seamlessly with my 27-inch MAC 5K (Mojave OS) to scan Web quality images for my website and published Ebooks.
VueScan makes scanning handwritten recipe cards, illustrations, and vintage photos a breeze. The scans are crisp and clear, so very little touchup is needed, all thanks to VueScan's built-in editing features. And that's a real time-saver for a small one-person business. VueScan truly is an excellent product!"
Any plans for the future Don?
"My plans include retirement, but I'll not stop using VueScan. I'm already using it to scan and preserve family photo albums and slides for my genealogy hobby. VueScan is everybody's scanning solution."
https://www.Homemade-Dessert-Recipes.com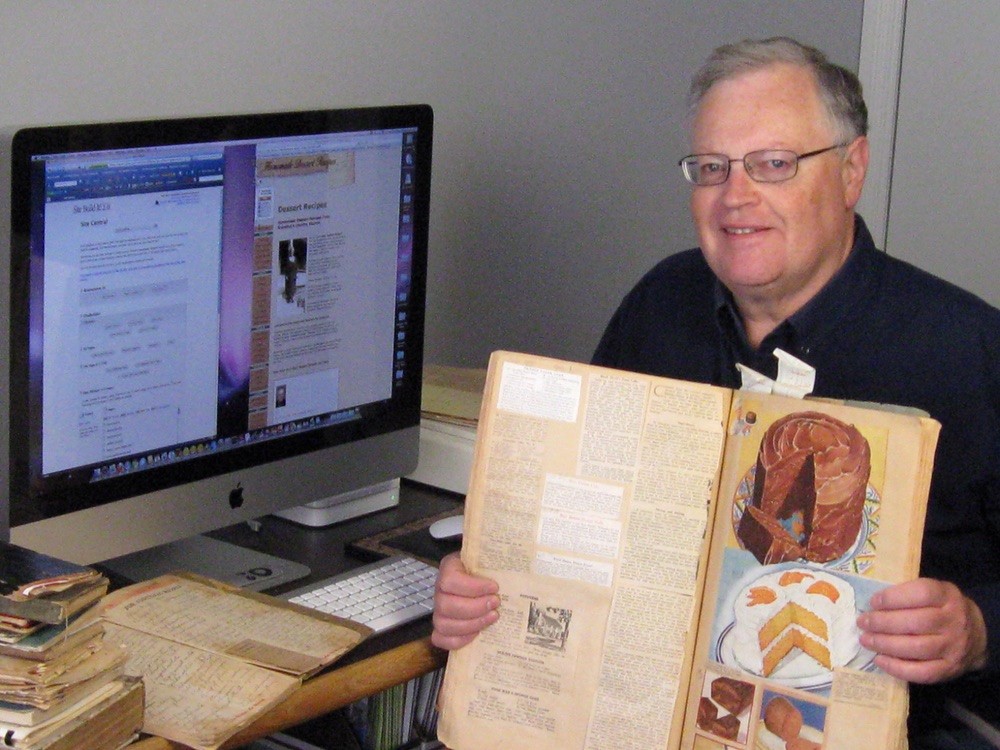 Don Bell with his old-fashioned dessert book