March 4, 2020
Are you looking to scan on your Raspberry Pi? If so, look no further than VueScan! This software is the perfect solution for scanning documents, photos, film and more. It's easy to install and even easier to use. In this blog post, we will show you how to install VueScan on your Raspberry Pi and get started scanning immediately!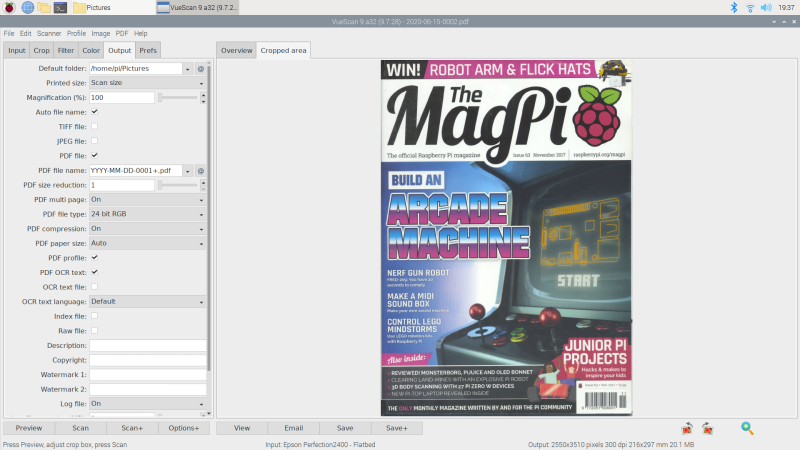 Check out this review of VueScan in the official Raspberry Pi magazine
Install VueScan on the Raspberry Pi
We just released version 9.7.24 that includes support for the Raspberry Pi. Head over to our downloads page to download a .deb file for your Raspberry Pi, first go to the downloads page on the Raspberry Pi website. From there, you can download either the 32-bit or 64-bit version of the .deb file, depending on which type of Raspberry Pi you have. Once you've downloaded the .deb file, you can install it by double-clicking on it and following the prompts. After it's installed, you'll be able to use the software that it contains.
VueScan vs SANE
SANE (Scanner Access Now Easy) is an open source project that enables users to access scanners on Linux. It includes a number of drivers and front-ends that allow users to interface with scanners. While SANE offers a robust solution for scanner access on Linux, it doesn't support the full breadth of scanners that VueScan does. VueScan has reverse engineered over 7000 scanners, making it the most comprehensive source for scanner drivers. As a result, users who need access to a wider range of scanners may find VueScan to be a better option.
VueScan is a powerful scanning software that offers many features not found in other scanning programs. For instance, VueScan can create multipage PDFs, making it ideal for scanning documents. It also offers a variety of film scanning features, including the ability to scan negatives and slides. In addition, VueScan has a number of photo scanning features that can be useful for digitizing old photos. Overall, VueScan is a versatile and powerful scanning tool that is worth considering if you need more than just basic scanning features.