VueScan Newsletter - July 2020
Hello everyone,
The last few months has and continues to impact us all in a deeply personal way, and it feels slightly surreal to be talking about software updates. But, over the past few months we have come to realise that it is both timely and appropriate to stay in touch, as this situation has resulted in vast numbers of our customers now working from home and many having increased leisure time.
With this global crisis, many people have also realised that the scanning and sharing of photos of treasured memories with family and friends has more importance than ever before and is universally appreciated.
With this in mind, we have added special pricing for new customers, and more 'How-to' guides so you can make the most out of VueScan.
In recognition of these circumstances, and as a change from our normal technical updates on Facebook, if you would like to share any of your personal photos of your location please do send them to us.
On a different note, many of our Apple customers will have heard about the transition of Mac's from using the Intel processor to the new ARM processor, which could be released within the next few months. In our experience, every time a manufacturer releases a new operating system there are many casualties left behind – scanners notably being one of them. But read on for some good news from us about VueScan 9.7 a64 for macOS 11.0 (Big Sur)!
Please remember, we are a small company and we try and stay close to our customers. Feel free to contact us with any ideas or information that you have and let's help each other as much as possible during this crisis.
And as always, if you have any product suggestions or requests, we would love to hear them. (The majority of our updates are customer driven.)
Please remember you can contact us for technical support (we need a Problem Report) and any general enquiries or feedback here
As usual, I sign off with the message to stay safe.
Beverley.
Your newsletter sign up!
Please remember: If you have changed your email address PLEASE do not email us!
Remember! You do not have to tell us about an email address change for your use of VueScan, it is only relevant for the newsletter.
You can subscribe to the newsletter with your new email address here: https://www.hamrick.com/newsletter.html
You can unsubscribe the old email address here: https://www.hamrick.com/unsubscribe.html
You can contact us with questions or for technical support here: https://www.hamrick.com/problem-report.html
Thank you and happy reading!
VueScan Updates
Since the last newsletter, we've released VueScan 9.7.29, 9.7.28, 9.7.27 and 9.7.26.
What's new in version 9.7.29
Improved support for 53 scanners that use Genesys Logic chips
Plustek OpticFilm scanners between 2x and 3x faster
Scanning is quieter and faster with Genesys Logic scanners
Added support for Canon LiDE 90 without Canon plugins
What's new in version 9.7.28
Improved support for 53 scanners that use Genesys Logic chips
Supported on all versions of Windows, Mac OS X and Linux
If the vendor driver is installed, use 'Prefs | Disable scanners' to use this driver
Faster scanning by reducing lamp movement
Faster lamp warmup by keeping non-LED lamps warm
Improved scan quality with improved shading correction
Buttons on scanner supported by "Prefs | Button N action"
Added support for exposure control
Faster scans by reducing the backtracking when scanner faster than USB
Supported scanners are:

Canon 4400F
Canon 5600F
Canon 8400F
Canon 8600F
Canon LiDE 35
Canon LiDE 40
Canon LiDE 50
Canon LiDE 60
Canon LiDE 80
Canon LiDE 100
Canon LiDE 110
Canon LiDE 120
Canon LiDE 200
Canon LiDE 210
Canon LiDE 220
Canon LiDE 700F
HP ScanJet 2300c
HP ScanJet 2400c
HP ScanJet 3670
HP ScanJet 4850C
HP ScanJet G4010
HP ScanJet G4050
Medion MD5345
Medion MD6228
Medion MD6471
Panasonic KV-SS080
Pentax DSmobile 600
Plustek OpticBook 3600
Plustek OpticBook 3800
Plustek OpticFilm 7200
Plustek OpticFilm 7200i
Plustek OpticFilm 7300
Plustek OpticFilm 7400
Plustek OpticFilm 7500i
Plustek OpticFilm 7600i
Plustek OpticFilm 8100
Plustek OpticFilm 8200i
Plustek OpticPro ST12
Plustek OpticPro ST24
Syscan DocketPORT 465
Syscan DocketPORT 467
Syscan DocketPORT 485
Syscan DocketPORT 487
Syscan DocketPORT 665
Syscan DocketPORT 685
UMAX Astra 4500
Visioneer OneTouch 7100
Visioneer Roadwarrior
Visioneer Strobe XP200
Visioneer Strobe XP300
Visioneer XP100 Rev3
Xerox OneTouch 2400
Xerox Travelscanner 100
What's new in version 9.7.27
Improved scan quality with some Fujitsu scanners (including ScanSnap S1500)
Improved scan quality with Canon P-208
Support for some Plustek OpticFilm scanners on Windows, Mac OS X and Linux
(No need for Plustek drivers with these scanners)

Plustek OpticFilm 7200 (serial number 5A15XXXXXXXX)
Plustek OpticFilm 7200i
Plustek OpticFilm 7300
Plustek OpticFilm 7500i
Plustek OpticFilm 7400
Plustek OpticFilm 7600i
Plustek OpticFilm 8100
Plustek OpticFilm 8200i

Added support for 4800 dpi with some Canon scanners

Canon LiDE 110
Canon LiDE 210
Canon LiDE 220
What's new in version 9.7.26
Added support for additional Genesys Logic scanners
Plustek OpticFilm 7400
Plustek OpticFilm 8100
Improved support for Genesys Logic scanners

Canon 4400F (flatbed up to 600 dpi)
Canon 8400F
Canon 8600F
Canon LiDE 35
Canon LiDE 40
Canon LiDE 50
Canon LiDE 60
Canon LiDE 80
Canon LiDE 100
Canon LiDE 110
Canon LiDE 120
Canon LiDE 200
Canon LiDE 210
Canon LiDE 220
Plustek OpticFilm 7200i
Plustek OpticFilm 7300
Plustek OpticFilm 7500i
HP ScanJet 2300c
HP ScanJet 4850 (flatbed up to 400 dpi)
HP ScanJet G4010 (flatbed only)
HP ScanJet G4050 (flatbed only)
Scanning at Home – 65 projects you can do!
This is from EMULSIVE - which was established in 2015 with the aim of gathering and sharing knowledge across the film/traditional film community. We hope it helps!
https://emulsive.org/articles/65-photographic-projects-you-can-do-when-youre-stuck-at-home
Apple changing from Intel to ARM processor – What does it mean for you?
You may have noticed that we've slowly been adding support for computers with ARM processors, starting with Windows ARM computers and recently with the Raspberry Pi computers (which cost less than $100!). We've been doing this so that once Apple announced their ARM Macs, we would be ready to release the ARM version of VueScan for the Mac (VueScan 9.7 a64). Apple has now announced their ARM Macs.
We haven't been able to talk about this till now, but we can now announce that we will release a native ARM version of VueScan for macOS 11.0 (Big Sur). We're 100% confident we will release a native version of VueScan 9.7 a64 when Apple releases their new Macs, but we can't yet release details showing why we're 100% confident.
The background for you: If you use Apple mobile devices then you have been using Apple's own A-series chips for more than a decade – all of which are based on a design licensed from ARM. Apple now calls their ARM variant "Apple Silicon". These processors are immensely powerful - Apple was even confident enough to make the claim in 2018 that the iPad Pro was faster than 92 percent of all portable PCs sold between June 2017 and June 2018.
With that kind of power potential it is clear that Apple might not need Intel anymore and would rewire the code for macOS to run on ARM instead of Intel – but the difficulty is getting an army of third-party developers to do the same.
However, Apple have just announced that it has ARM-native versions of its existing apps, and that it has been working with key companies (e.g. Adobe) to work up native versions of some essentials.
What does this really mean? It means that unless a manufacturer adds support for its scanner range, any new Mac purchased will not work with millions of existing scanners. This is the reason we've been working on supporting Pacific Image Electronics (PIE) film scanners, Plustek Opticfilm film scanners, Canon LiDE flatbed scanners and Fujitsu document scanners without needing any vendor drivers and plugin libraries. Vendors generally don't release new drivers for scanners they no longer sell, and PIE, Plustek, Canon and Fujitsu have sold tens of millions of these scanners (which still work just as well as brand-new).
Here is the news release from Apple with their announcement:
https://www.apple.com/newsroom/2020/06/apple-announces-mac-transition-to-apple-silicon/
Frequently Asked Questions
Q) I use VueScan for genealogy a lot. How can I label a photo on the back? At the moment I scan a photo and turn it over and use a paint program or similar to put the photo label on the bottom of the picture, using the information from the back of the photo. This is such a hassle, that I generally just scan the back of the photo and name it "YYYY-MM-DD Family Photo - back".
A) Set "Output | JPEG multi page" and press the "Preview" button. Scan the front with the "Scan" button and the back with the "Scan+" button (or the Save and Save+ buttons if you've already done a preview
Q) My USB scanner doesn't work on new versions of Ubuntu Linux. How can I solve this?
A) Use the "sudo apt remove ippusbxd" command
Q) When I am scanning a double sided document to PDF – I choose the PDF multi-page option, scan 1 side and then try and scan the other side using the Scan+ option But I cannot save it to the same document name – VueScan forces me to create a new document. What is wrong?
A) If you have viewed the document after scanning 1 side, then Adobe Acrobat leaves that file open and will not allow VueScan to use the Scan+ option. You need to close the Adobe Acrobat view of the document before you can continue, because Adobe Acrobat grabs the file and prevents VueScan from writing to it. To put the pages in the correct order, after scanning immediately select PDF Interleave – which corrects the page order.
Customer Comment
Thank you to everyone who contacts us and shares information. Please keep sending them in. This is from Harry Hurst in Florida, USA,
I just wanted to email you to let you know that yes, I am taking the opportunity of all this new "free" time to do those scanning projects I have put off for years. One of them is a collection of old Ektachrome slides from the 1950s and 60s that a high school friend of mine sent to me several years ago.
I am a racing fan and her father was the medical director for the Sebring 12-hour race in the period when that race was the most prestigious international race in the United States. He was an avid amateur photographer and would take photos of the famous drivers and cars. Unfortunately, he shot very little Kodachrome. The Ektachrome has not aged well. In fact, the images were almost unusable, with a magenta cast over the entire slide.
I am fairly accomplished with Photoshop, so I decided to try to fix them. I've been using VueScan for years and started to scan them using the light dust removal. This worked very well but I had to spend quite a bit of time in Photoshop removing the red cast and restoring the colors as best I could.
Then, I noticed the boxes in the filter tab, "Restore colors" and "Restore fading."
OMG!
Your filters did a better job that my tweaking in PS for hours did!! I still need to go in and do tweaks, but the results are truly amazing.
In short, VueScan will enable me to restore this man's work and show it to the world. For historians of motor racing, these shots are a unique view of that race and time.
Thank you very much.
PS - samples before and after attached.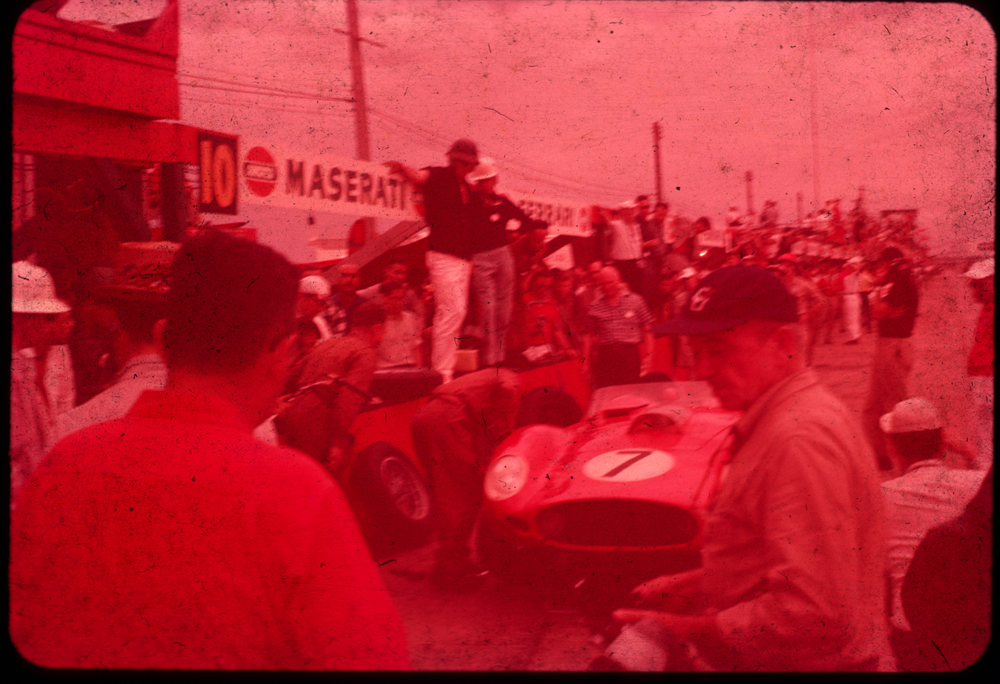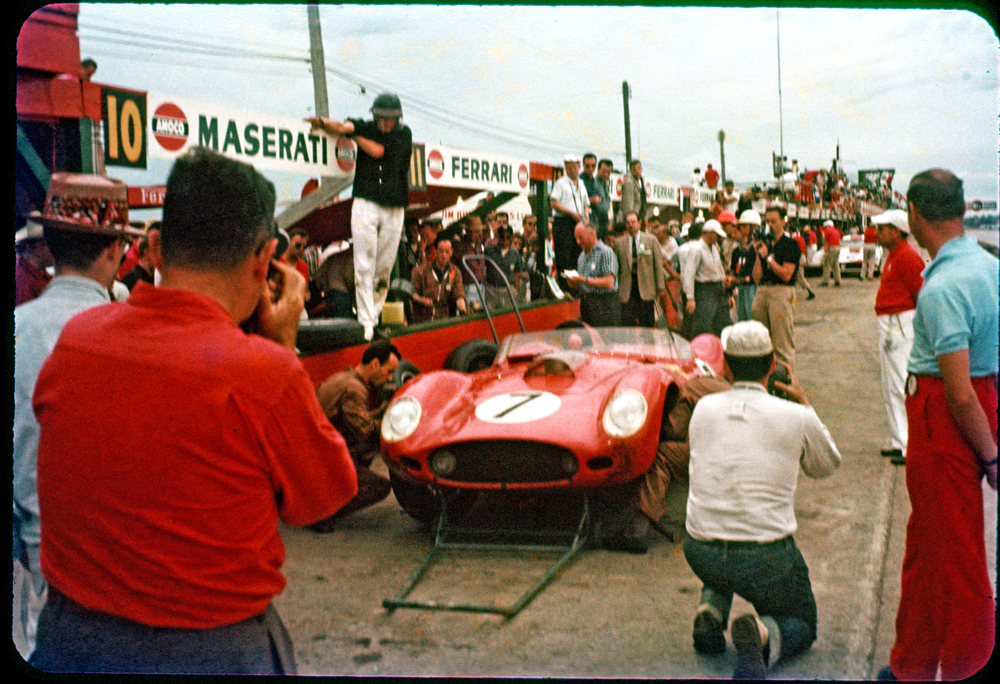 A selection of photos sent in from our customers
As you've pointed out, the Covid19 shutdown has given many of us the opportunity to do the things that we've put off far too long. And in the process we're dredging up many amazing family memories. While I've been using VueScan for years, I decided to chronicle my dad's slides from the 50's. Here is one such example of my mom and big brother on Mount Rainier back in the Spring of 1950. It is like seeing an image out of the latest iPhone.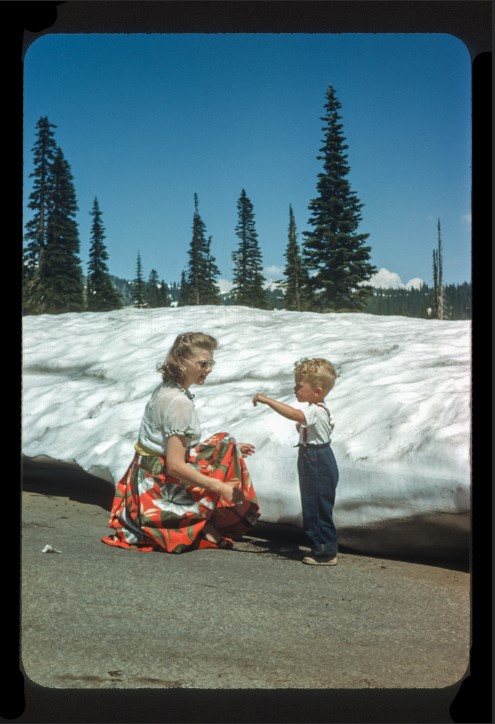 Thank you for your hard work and dedication to support us with this amazing tool. All the best to the both of you.
---
Ror, Seattle, USA. Win 10 / Nikon Coolscan V LS-50
This photo is from Roger (and his visitor) taken on his 9th floor balcony in Winnipeg, Manitoba, Canada. The geese visit once or twice a year - and they also have visits from owls and squirrels. Thanks Roger – great photo.