We are thrilled to announce the release of VueScan 9.8.13, marking a significant milestone in the advancement of our scanning technology. This new release is a direct response to our user community's feedback and demands, featuring an exciting new capability.
VueScan now offers the groundbreaking ability to automatically detect and crop a variety of small objects such as receipts, business cards, and other documents that don't take up a full page on a flatbed scanner. This innovative feature is an extension of our pioneering work in automating cropping and straightening processes for photos, slides, and film. Our goal is to empower you, the user, with the ability to create the best possible digital representation of your materials, no matter their size or shape.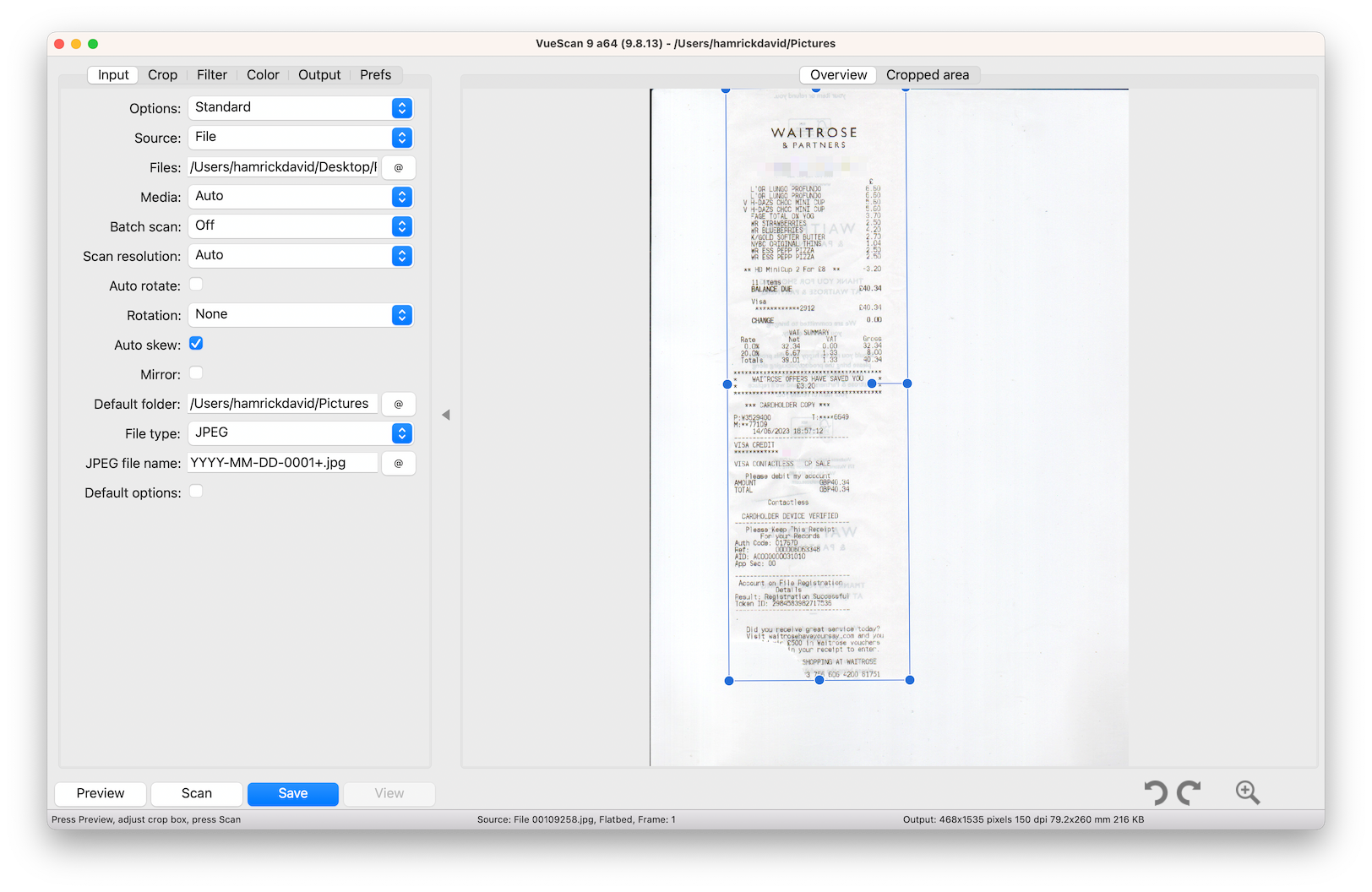 VueScan automatically cropping a receipt
The challenge of developing this feature lay in the vast diversity of objects typically placed on a flatbed scanner. Objects come in myriad shapes, sizes, colors, and are placed on various backgrounds. Designing a reliable algorithm capable of intelligently recognizing and cropping these items was a daunting task. The task is even more complex given the fact that every object has its own peculiarities, making it almost impossible to apply a one-size-fits-all approach to cropping.
Like many features we've worked on recently, we turned to Machine Learning (ML) and Artificial Intelligence (AI). Leveraging the power of these technologies, we developed and trained a unique ML model, enabling it to learn from thousands of real-world examples generously submitted by our valued customers.
The result is a sophisticated cropping feature capable of understanding the unique characteristics of various objects placed on the scanner bed. It's as if you're giving your scanner an extra set of 'intelligent eyes' that can identify and crop each item precisely, whether it's a stack of business cards, a collection of receipts, or a group of small notes and documents.
We firmly believe that the incorporation of this new feature into VueScan 9.8.13 underscores our commitment to enhancing user experience by continually evolving and adapting our software. Our aspiration is to offer the best scanning tools that leverage the power of cutting-edge technology, and this automatic cropping feature is yet another testament to this ongoing dedication.
In conclusion, VueScan 9.8.13 has been designed with one simple goal in mind: To give every user the ability to get the best digital representation of whatever they're trying to scan. We're confident that this advanced feature, developed through with AI and ML, will make your scanning tasks quicker, easier, and more efficient. We invite you to experience this feature and see the difference it can make to your scanning process.
Thank you for choosing VueScan. Your feedback and suggestions inspire us to innovate, and we eagerly look forward to hearing about your experiences with this new feature.