We're happy to announce that VueScan VueScan 9.8.06 has been released today. We've been working hard to improve our software, and we think today's release is going to be an exciting one for you.
Today we're releasing two of the most commonly requested features. First off, VueScan can now automatically crop and rotate your scanned photos! On top of that, we're introducing a rotate handle, which gives you the flexibility to rotate any crop box within VueScan. These new features are designed to streamline your workflow and make scanning even more efficient.
Automatically Crop and Rotate Photos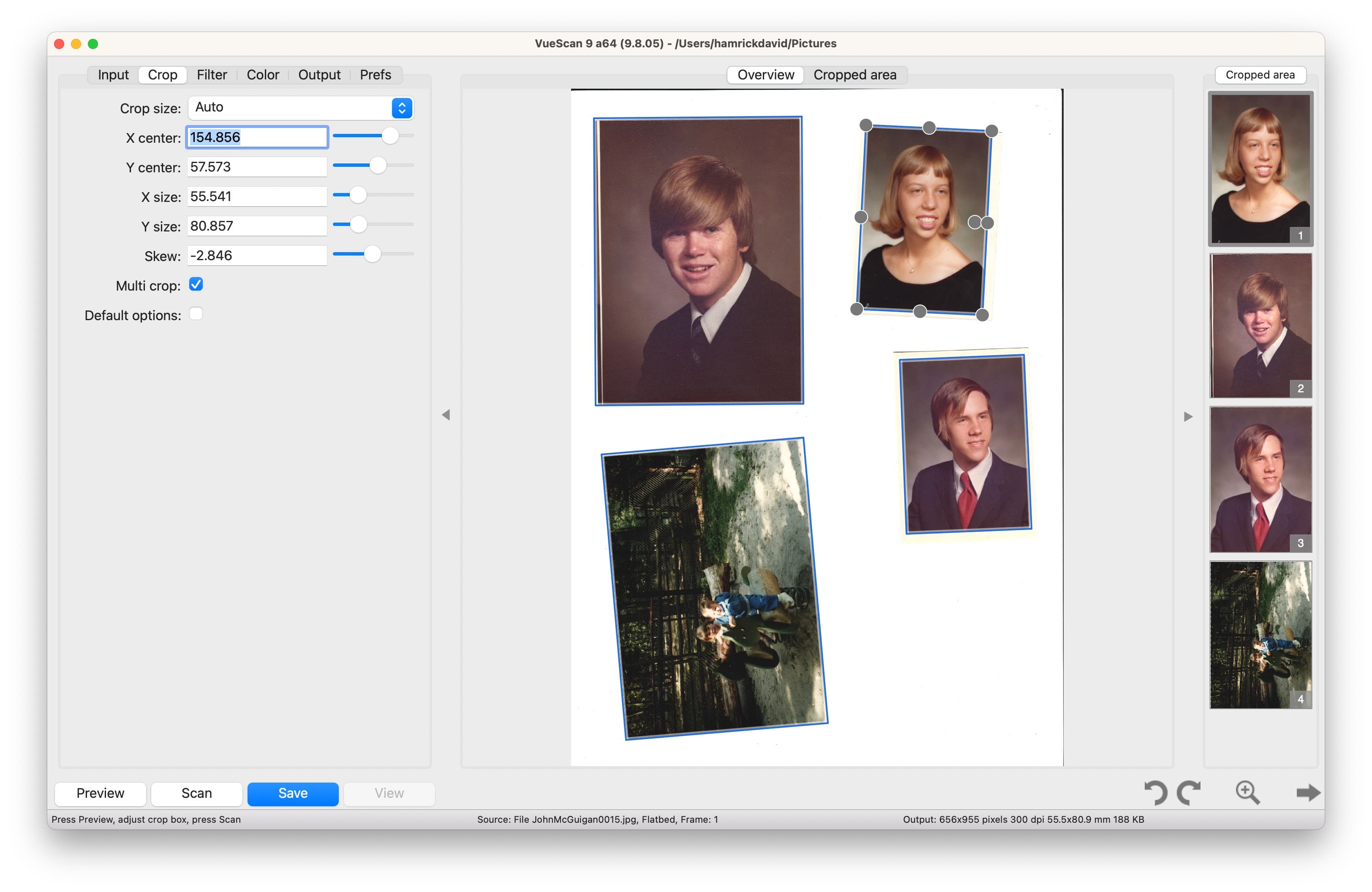 VueScan automatically cropping and rotating the 4 scanned photos
Scanning photos is a task that, traditionally, can be quite time-consuming. You have to carefully place each photo onto the flatbed, individually scan it, and then perform additional steps like cropping and deskewing. This meticulous process adds up quickly, especially when you're dealing with multiple photos.
With VueScan 9.8.06, we've revolutionized this process. By enabling you to place multiple photos on the flatbed at once and then letting the software automatically crop and straighten each one, the scanning process becomes significantly faster and less cumbersome. The task of cropping each photo individually and the need to straighten them is eliminated, which is a game-changer in terms of efficiency. But achieving this was no simple task; photos come with a range of unique characteristics like borders, writing, or similar background colors that make this task technically challenging.
Enter Machine Learning (ML), a key player in making this automated feature possible. We trained an ML model with thousands of cropped photos, and in return, it gave us a robust method to automatically identify, crop, and straighten photos. We've incorporated this model into VueScan 9.8.06, enabling users to crop and straighten photos with just a single click. This not only speeds up the process, but also takes the guesswork out of photo scanning. We're confident that this breakthrough will make scanning photos a much faster and easier process, allowing you to focus on what truly matters - preserving your precious memories.
VueScan's default settings should automatically enable multicrop and autoskew but you can learn more about how to use this feature here.
Rotate Crop Boxes
While photos often end up the most skewed, they certainly aren't the only thing that could use some rotation. Whether it's a slide that's been scanned a little crooked, or a document that ended up a little skewed in the feeder, the need to rotate scanned items is a common scenario. Recognizing this, we've strived to improve VueScan's flexibility to better accommodate these situations.
With VueScan 9.8.06, we've built a brand new rotate UI right into the software. This function allows users to adjust any scanned item with a simple, user-friendly tool. So whether it's a slide, a document, or anything in between, you can easily straighten it out in no time. We believe that this rotating feature is going to be a powerful addition to our users' scanning toolkit. Furthermore, to enhance your scanning experience, we've also introduced automatic deskewing for photos, documents, flatbed film, and slides. This means that VueScan is not just becoming more flexible, but also more intelligent in catering to your scanning needs.
Help us make VueScan better
The magic behind these new features in VueScan 9.8.06 lies in the capabilities of our new machine learning models. The advancements we've made, particularly in automated cropping, rotating, and deskewing, have been possible thanks to these models, which learn and adapt from a large volume of examples to refine their outputs.
However, it's important to note that the effectiveness of our machine learning models is made possible through the invaluable help of our customers. To train our models effectively, machine learning requires a plethora of samples to learn the patterns, and that's where you come in. The thousands of scanned photo examples we've received from you have been instrumental in training our model. For those who want to see further improvements in our models, please consider enabling the Prefs | Send preview data option. This will send a low-resolution copy of your preview to us, providing more data to train our model and continually enhance its accuracy. We extend our sincerest thanks for all your help and support - VueScan wouldn't be what it is today without you!