Do you need a TWAIN driver for your scanner? Are you tired of hunting down drivers and software from different manufacturers, only to find that they're not supported anymore?
Look no further than VueScan! This powerful software can act as a universal TWAIN driver, which means that it will work with pretty much any scanning device out there. Whether you are using an old scanner or the latest model, VueScan is the way to get it working again.
VueScan is a scanning program that gives you more control over your scans than a typical TWAIN driver. With VueScan, you can scan from within the software itself, so you don't need to download both the driver and the software separately. VueScan also offers a wide range of features that are not available in most TWAIN drivers. As a result, VueScan is a powerful tool for anyone who needs to scan.
How do I know if VueScan contains a TWAIN driver for my scanner?
VueScan supports over 7100 scanners from 42 manufacturers. So it's likely that VueScan already supports your scanner. But you can also browser our supported scanner list or search for your scanner.
What is TWAIN?
TWAIN is an interface that allows for communication between your scanner and the software you want to use the scanner with.Think of it as a bridge or go-between. If you want to use your scanner with certain software, chances are you'll need a TWAIN driver to make it happen!
The word TWAIN is actually a backronym, not an acronym. An acronym is a word formed from the first letter or letters of a series of words, and it is pronounced as a word. A backronym, on the other hand, is a word that is created after the fact to fit an existing word. In this case, the existing word was "twain," which comes from a line in Rudyard Kipling's poem "The Ballad of East and West." The official website notes that the use of the word TWAIN reflects the difficulty of connecting scanners and personal computers at the time.
TWAIN is not a company, it's just the name of the interface. The TWAIN group was formed in 1992 by several companies who saw the need for a standard software interface that would allow scanners to work with a variety of software programs. Today, over a dozen companies belong to the TWAIN group!
If you're looking for a TWAIN driver, VueScan is a great option. With VueScan, you can use your scanner with just about any software program out there. And if you're not sure whether or not VueScan supports your scanner, you can always check the supported scanner list or search for your scanner here.
Happy scanning!
Do I need a TWAIN Driver?
TWAIN is a standard that many scanner manufacturers adhere to. This means that you can use the same protocol to interface with many different scanners. In order to scan from within another application, like Photoshop, you'll need a TWAIN driver for your scanner. Many scanners come with such a driver on a CD or available for download from the manufacturer's website. Once you have installed the driver, you should be able to select your scanner as a source from within the application and begin scanning.
If you're having difficulty finding a TWAIN driver or your scanner doesn't appear to be supported, you may want to try using a standalone scanning application like VueScan. VueScan supports over 7200 different scanners and can often produce better results than the drivers that come with the scanners.
TWAIN has been around for a while but it is no longer the standard way that scanner manufacturers implements their driver. WIA is another driver type that is available on Windows and it offers a simpler interface compared to TWAIN. Image Capture Drivers (ICA Drivers) are the driver format that are used on macOS. Some scanners may also come with their own proprietary software that you can use to scan documents. Depending on your needs, you may want to use one of these other types of scanner drivers instead of TWAIN.
VueScan is the perfect tool for anyone who needs to scan documents or photos. With VueScan, you can get your scanner working again, even if it's not supported by the software you're using. And because VueScan is compatible with over 7100 different scanners, chances are good that it will work with yours!
Still have questions about TWAIN or VueScan? Leave a comment below and we'll do our best to answer them!
How do I use VueScan as a TWAIN source?
VueScan is a powerful scanning application that gives you a lot of control over your scans. You can use it in a standalone way by launching the VueScan application, or you can open it from within another application like Photoshop. When you open it from another application, VueScan's UI will open instead of the scanner UI from the host program. This is because VueScan has more options and settings that you might want to change.
To use VueScan as a TWAIN source, you'll need to first launch the application. Then, open the "File" menu and select "Import from TWAIN" (or similar). This will open up a dialog box where you can select your scanner. Once you've selected your scanner, click "OK" and VueScan will begin scanning. You can then save or export your scan according to your needs.
VueScan is a great option if you're having difficulty finding a TWAIN driver for your scanner or if you want more control over your scans than the drivers that come with your scanner provide. Give it a try today!
Should I use VueScan as a TWAIN source or stand alone
TWAIN was once a great way to connect different applications with different scanners, but today it's much easier to use a standalone app and then open the resulting image from the other application. This is primarily because apps need to update the version of TWAIN they are using and are often out of sync. Many users find it easier to use VueScan as a standalone application rather than using TWAIN.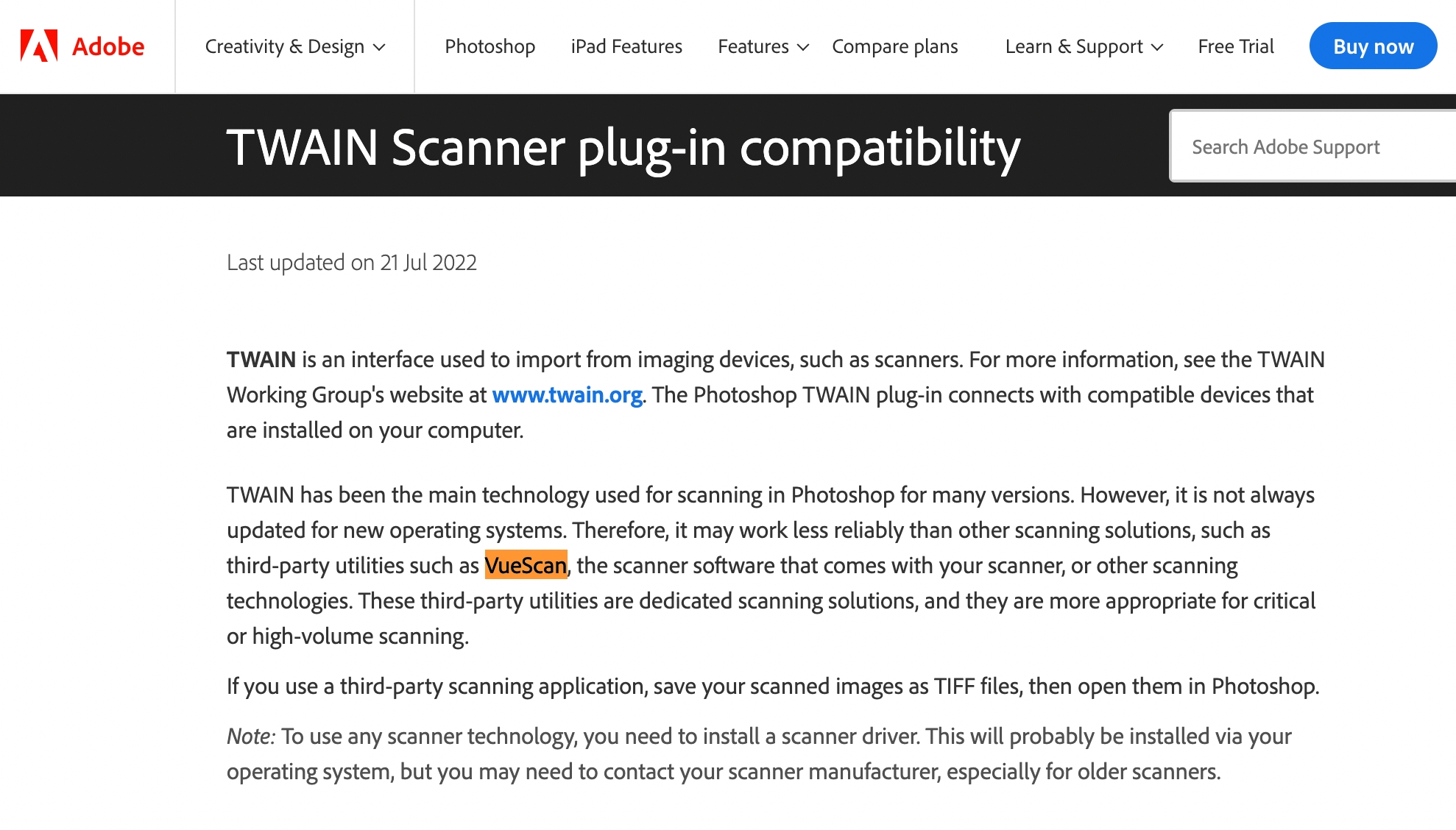 Adobe Photoshop was one of the most common uses of VueScan's TWAIN data source, but as of 2022 they no longer support this option and recommend that people use VueScan directly. While this may be disappointing for some users, the good news is that VueScan is a very capable program in its own right and can still be used to scan photos and other documents into Photoshop. The main difference is that instead of using Adobe's interface, you'll be using VueScan's own interface to control the scanning process. While it may take a bit of getting used to, VueScan's interface is actually quite intuitive and easy to use. In addition, VueScan offers many more features than Photoshop's scanner interface, so you may find that you prefer it once you get used to it. Overall, while Adobe's decision to no longer support TWAIN scans in Photoshop is unfortunate, it shouldn't be a major obstacle for most users.