VueScan Newsletter - August 2019
Newsletter
Hello and welcome!
In the last newsletter we asked you to help us with endorsements and comments about your use of VueScan. The response has been overwhelming! A massive thank you to the HUNDREDS of emails we have received telling us how / why / when you use VueScan – we have had replies from all over the world and it has been fascinating to read them and learn about you. I have replied to every one of them now and we can't thank you enough – especially for the wonderful photos you have sent in as well!
Over the next few months we will add these comments to the website, most likely on the scanner information page – and we'll write to you as well to let you know that you have been published. If you still want to write to us then please do so, it's not too late and would be great to have you on board.
Your newsletter sign up!
Please remember: If you have changed your email address PLEASE do not email us!
You can subscribe to the newsletter with your new email address here: https://www.hamrick.com/newsletter.html
You can unsubscribe the old email address here: https://www.hamrick.com/unsubscribe.html
You can contact us with questions or for technical support here: https://www.hamrick.com/problem-report.html
Remember! You do not have to tell us about an email address change for your use of VueScan, it is only relevant for the newsletter.
Thank you and happy reading!
Frequently Asked Questions
Q) VueScan doesn't find my USB scanner. What should I do?
A) Try a different USB cable and/or a different USB port. On Windows, make sure a driver is loaded in Device Manager. On Mac OS X, make sure the scanner appears in 'About This Mac' in the USB devices section. On Linux, run VueScan as root to diagnose if it's a libusb device protection problem.
It's quite rare, but you might need to disable secure boot on Windows 10 build 1607 or later.
Here are some instructions for doing this:
https://docs.microsoft.com/en-us/windows-hardware/manufacture/desktop/disabling-secure-boot
When all else fails, try rebooting your computer. Sometimes this helps.
Q) VueScan doesn't find my WiFi (or Ethernet) scanner. What should I do?
A) Check the scanner settings on the front panel of the scanner to see if there's an option for enabling 'mDNS' (it might be called 'Bonjour')? This is how VueScan detects scanners on the network. You might also need to enable AirPrint on the front panel of the scanner.
You might also check that your firewall or router between your computer and scanner isn't blocking mDNS responses from the scanner from being returned to VueScan (UDP port 5353). The computer and scanner also need to be on the same subnet.
Lastly, make sure you aren't using a Virtual Private Network (VPN) - this will interfere with finding scanners on the network with mDNS.
Q) I can't scan film using the lamp in the scanner lid. How can I fix this?
A) Here are the most common solutions:
Make sure the cable from the lamp in the scanner lid is plugged into the back of the scanner.
Make sure you've removed the cover from the lamp in the scanner lid.
Make sure the plastic film holder is oriented properly on the glass.
Make sure nothing is blocking the small rectangular calibration area in the plastic film holder.
Then run VueScan, set "Input | Mode" to "Transparency" and press the "Preview" button.
Also, make sure the lamp in the scanner lid turns on when you press the "Preview" button.
Q) My scanner can scan both sides of the paper. How to I set up VueScan to do this?
A) Set 'Input | Mode' to 'Duplex Feeder'
Q) I'm scanning both sides of the paper, but some pages have nothing written on the back side. How can I make VueScan not save the blank back sides?
A) Set "Output | PDF multi page" to "Blank page"
Q) When I scan, I get a blank page, but my scanner doesn't make any noise. What's up?
A) You're probably startling someone in a nearby office by scanning on their network attached scanner. Use the 'Input | Source' option to select your scanner.
Help for Nikon Customers
Nikon CoolScan VueScan Settings
If you're a Nikon user you may find the following information of use. This is from a customer of ours in Denmark. Thank you Johannes! Much appreciated and if anyone else would like to share some tips just let us know.
http://www.datanord.dk/tips-tricks/nikon-coolscan-vuescan-settings/
Johannes Waagner Nielsen, DataNord Consult, Copenhagen, Denmark
Slide Scanning - Negative Scanning - Photo Scanning - Video Tape Transfer. All Work done On Site.
Request for help!
One of our customers is trying to get his Polaroid scanner fixed. If anyone can recommend a repair service please let us know and we'll pass it on! He is in Memphis, TN, USA but can mail it to anywhere in the USA. Thanks.
Contact us here: https://www.hamrick.com/problem-report.html
Customer Corner
Reinhard Mohr
A review from Germany – thank you Reinhard for sharing your use of VueScan with us 😊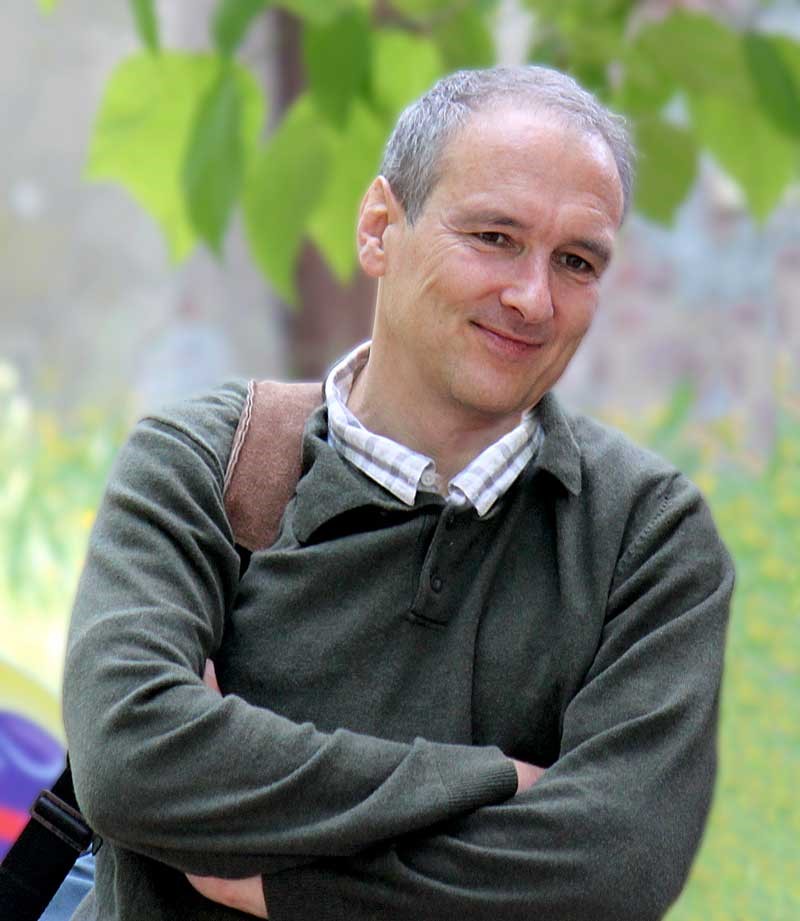 My name is Reinhard Mohr, and I am the owner of www.reinhardmohr.de in Munich, Germany. We specialise in SEO, Web design and Photography.
I started as a journalist 35 years ago, both writing and taking so MANY photograph that I became a skilled photographer. In those days, everything was on black and white film. I also took many photographs while on holiday and in 1990 I held my first exhibition.
By the year 2000 all my camera equipment was digital – but I had archived all my old negatives.
My business then grew as an agency doing photography for companies, and the design and production of brochures. Then came websites and finally I specialized in web design and search engine optimization – and for good customers I still took photographs of their company and their team.
About 2010 I was invited to a group exhibition of artists – and I wanted to show my black and white work. This meant that I needed to digitize my negatives – and I finally went for a Nikon scanner (LS 5000, this was the only used scanner which was available then).
But I needed the software for these high quality scans. I tried everything; and the most expensive software was Silverfast. Although it was renowned, it was expensive, it didn't work properly, and they wanted money for every single type of scanner.
I had used VueScan before for document scanning, and so I returned to it. I upgraded to the Professional version - and it worked perfectly. I could now draw my old shots from the "analog archives" – and the black and white prints which were extraordinarily rich in details (thanks to VueScan) and the exhibition was a great success. The image quality, multi-exposure and multi-scan were excellent. Add the fact that VueScan managed perfectly to auto-scan a six-frame-strip of film was an enormous time-saver!
This is totally the best way to deal with my old film rolls!
My setup:
I use Mac (now the round Mac Pro), and the latest O/S.
My scanner for negatives is the Nikon LS-5000, and for daily scans I have a HP inkjet printer 8600 (This has a document feeder).
In addition, for high quality scans I use the Epson Pro V 850 (but I rarely use it) and for documents I use a Canon P-208II.
The benefits of using VueScan have been:
Saving money! Probably over $500 US dollars compared to Silverfast and the updates they charge for a lot for.
Time! Mainly due to the supported film-strip-feeder.
Scan quality: This is exceptional: I have one 24x36 mm negative enlarged and print to 2 x 3 m – and it's great!
VueScan has enabled to attend exhibitions, showing all my old black and white photographs from the 80s and 90s. And for any future exhibitions I know the quality of my black and white shots will be fine!
Customer Comment
Last month we asked if you could let us know what you use VueScan for – and your system setup. We have been inundated with replies – thank you to everyone who wrote in. Here are two we have just randomly selected:
I have been using VueScan for many years on my mac computer. I am a totally blind person, and reading has understandably always been an obstacle to everything I have ever wished to accomplish: from education, throughout the university and during my employment. So when VueScan had come to be, it was immediately an absolutely crucial tool for me that facilitated - and continues to do so - access to printed matter. I have over the years scanned thousands of pages, both letters and short documents but also whole books so that I could read them and in the case of documents keep them for the all-important record and reference. VueScan also guarantees an often compromised privacy to me as I can scan letters and private documents without having to ask others to read them for me. The developers of VueScan have always been responsive to the blind community in terms of making sure VueScan remains accessible to blind screen reader users. I know of many blind people on the mac platform who have been using VueScan to enhance their independence. I currently use VueScan with CanoScan 9000F MKII. I speak 4 languages and have scanned documents in English, modern Greek, Welsh, Polish and Spanish.
Simon Cavendish
Wales
---
Hi Beverley,
Many thanks for the newsletter with I find interesting and confirms what great support Hamrick has for this wonderful software, or shall I say apps?
You can use the following information if you think it can help:
I have been using VueScan for many years now having been introduced to the software at an Apple Users Club here in Perth. I currently use an Epson Perfection V370 Photo for digitising my enormous collection of photos and slides dating from 1950s to 1980s. I also use it to scan important documents - identity card, passports, receipts etc for easy retrieval from the computer. Needless to say, I have the very latest updates, which by the way are frequent and give me confidence that my scanning software is well and truly alive! I have used in the past other scanning software, just to see if I was missing anything, but NO, VueScan gives me more control, easier to use and oh! so reliable. I just would not part of it being my now only scanning application.
I use VueScan on iMac, mid-2010, running macOS High Sierra V. 10.13.6. I have had at least 3 other scanners in the past and Mac computers of years gone by and using the earlier versions of VueScan. Needless to say that I had been impressed by the reliability and ease of use of the application, notwithstanding the fact that it supports a massive number of scanners. And this experience has made me a great supporter of VueScan and Hamrick.
Kind regards Beverley,
Philippe Chaperon, Mount Lawley, Perth, Western Australia.